Paper Miniatures - Brothers of the Fire: Sacraments
Details
This set is a follow on to our previous Brothers of the Fire set. It adds 6 brand new figures with a focus on rituals and ceremony and will really round out the flame worshipping cult.!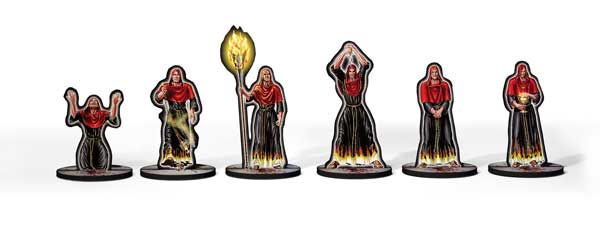 This set of paper miniatures includes 6 brand new Brothers of the Fire in a variety of poses!
The paper minis are scaled to 28mm, and will look good alongside most popular brands of miniatures and all manner of 28mm scaled scenery. Each paper mini has a distinctive front and back, and both sides feature rich and gorgeous detail. The detail is boosted by the high resolution of the PDF, and the colours have good contrast to make them pop at a distance!
The minis are designed with removable bases.
---
What's the difference between the Brothers of the Fire sets and the Brotherhood sets?

The Brothers of the Fire sets include just a single version of each paper mini, giving you 6 unique designs for a nice low price, with a unique fire theme on their habits. The Brotherhood set has a massive variety of colour options and extra details like hoods and sigils with hundreds of thousands of unique combinations, thus allowing you to create the members of virtually any cult you can imagine.
If I have one, is it worth getting the other?
If you have the Brothers of the Fire sets and want more cultists in different themes, then it's definitely worth getting the Brotherhood sets too. The minis in the Brothers of the Fire sets have been specially created with a unique fire themed deco and cannot be recreated with the Brotherhood sets, so if you have both sets, neither is a waste.
Additional Information
| | |
| --- | --- |
| Studio | Kev's Lounge |
| File Size | 6.16 mb |
| Page Count | 2 |
| Artist | Kevin RJ Berry |
| Minis In Set | 6 |
You may also be interested in the following product(s)
Regular Price: $4.49

Special Price: $3.75